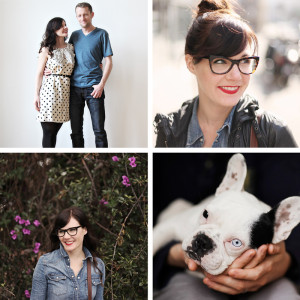 Hi there! My name is Ashley and I am truly convinced that I have the best job in the entire world.  I am an American girl from California's beautiful central coast, who fell in love with a sweet German man and his home country.  We married in 2011 surrounded by our nearest and dearest next to my family's lakeside cottage in Cape Cod, Massachusetts. Thank you so much for your interest in my work and taking the time to visit my site.  I am living my dream and am based in both California and Europe and am available to photograph weddings throughout the world.
My greatest love is my family, followed shortly thereafter by photography.  I have a borderline unhealthy obsession with polka dots and am truly convinced even the greyest of days are made better wearing red lipstick.  I love long bike rides on warm summer days, yoga, rose gold, french bulldogs (especially our little girl, Hazel), weddings, and being madly in love with love.
Photography has been a lifelong passion of mine, a hobby I fell in love with as a young girl during my family's travels in Europe and Asia. Growing up, I would steal my father's camera and have always had a great love affair with film.  In 2005, I graduated with a Bachelor's degree in Commercial Photography from Brooks Institute of Photography in Santa Barbara, CA.  I have been traveling and taking pictures ever since, living in San Francisco, Paris and now Berlin, and feel incredibly blessed to call this my job.  Beyond my work as a wedding photographer, I work as a lifestyle and travel photographer and am honored to have had my work published in publications such as: New York Times T Magazine, PDN, Matchbook Magazine, Cereal Mag, Reverie Magazine and sisterMAG.  My editorial work not only keeps me constantly inspired, I feel it also adds a unique quality to my work and approach to wedding photography.
Thank you so much for stopping by and taking the time to get to know me and my work. For bookings, pricing information or just to say hello, contact me here.
 My Instagram  |  Twitter  |  Facebook  |  Pinterest  |  Google Plus
Follow our adventures on my travel and lifestyle blog: www.chasingheartbeats.com