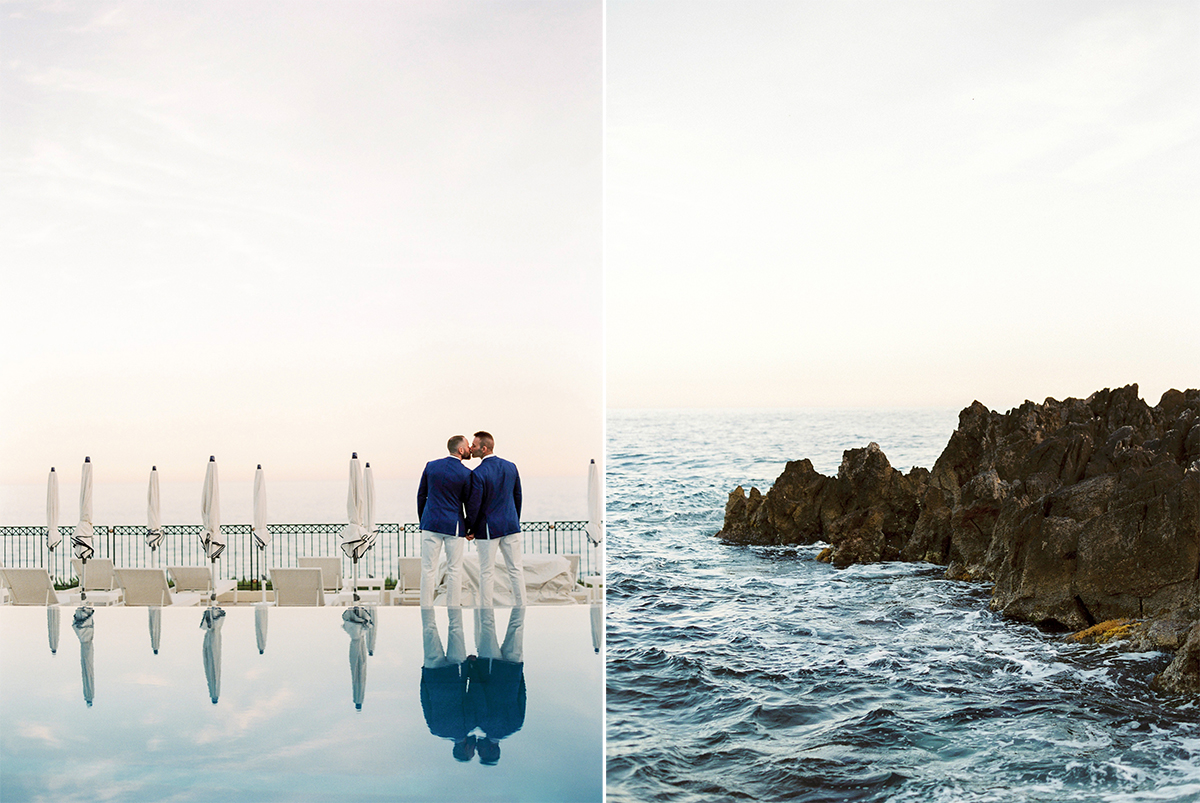 Rade and David and their guests came all the way from Los Angeles to celebrate their marriage on the French Riviera, one of their favorite places in the world, and it was definitely one for the books! Their Grand Hôtel du Cap-Ferrat Wedding was held at one of the world's most fabulous hotels, located at the southern tip of the Saint Jean Cap Ferrat peninsula. They chose an all-white theme for the day, from the flowers to the guest's attire. For their ceremony, they chose location that offered stunning views of the sea and the dinner celebration was held next to the seaside infinity pool. Before exchanging vows, David's aunt read the supreme court opinion authored by Justice Kennedy and the words had almost everyone crying happy tears.
"No union is more profound than marriage, for it embodies the highest ideals of love, fidelity, devotion, sacrifice, and family. In forming a marital union, two people become something greater than once they were. As some of the petitioners in these cases demonstrate, marriage embodies a love that may endure even past death. It would misunderstand these men and women to say they disrespect the idea of marriage. Their plea is that they do respect it, respect it so deeply that they seek to find its fulfillment for themselves. Their hope is not to be condemned to live in loneliness, excluded from one of civilization's oldest institutions. They ask for equal dignity in the eyes of the law. The Constitution grants them that right.  It is so ordered."
As the sun set over the sea, guests were ushered down to the pool in the bubble funicular and were greeted by synchronized swimmers and serenaded by a violinist playing while floating in a bubble in the pool. The incredible dinner was highlighted with speeches from those closest to Rade & David and the overwhelming love surrounding the couple was incredible to witness. The night ended with a pool party & dance party lasting into the wee hours of the morning. More weddings should end the party in the pool!!
Check out the feature on Style me Pretty's Front Page!
Photography: Ashley Ludaescher Photography  |  Event Planning: Wedding Angels  |  Floral Design: L'art des Fleurs  |  Reception Venue: Grand Hotel du Cap Ferrat a Four Seasons Hotel  |  Singer: Molly Pope  |  DJ: DJ Nick Boot | Groom's Attire: Brioni  |  Groom's Shoes: Sperry  |  Lighting + Audio: Succes Event  |  Rehearsal Dinner Venue: Chateau Chevre D'Or  |  Synchronized Swimmers: Apsara Events